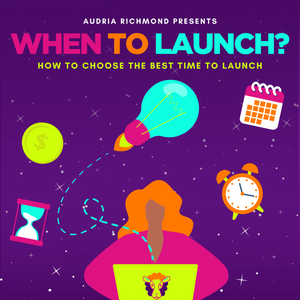 The Winning Strategy for Choosing the Best Time to Launch 
So, you're ready to bring your big idea to life. You know what you have to offer, but the "when" and "how" of getting your brand and offer into the world isn't quite as obvious. 
Scheduling and timing a launch strategy can be intimidating. It's not something you do every day, after all. There's a lot to factor in and Googling the solution will just lead to more questions than answers. 
Still, timing the perfect launch matters and that's why we created When to Launch? – How to Choose the Best Time to Launch!
In this workshop, we're going over everything you need to know about timing and executing the perfect launch. You'll discover: 
Why you need to take your launch date seriously

The best time to launch your specific brand or offer

The crucial factors to consider when selecting your launch date

Why "the right time" can make a difference to your success

PLUS, access to the 10-minute Q&A session where we answer questions
Timing things out in advance might seem impossible, but I promise you it isn't, and when done right, it's well worth the time and energy you'll put into the process!