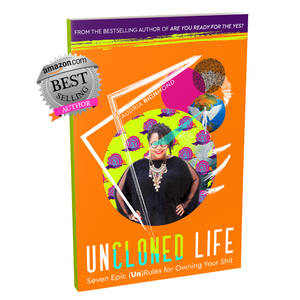 Being Liked Has No Place Here
What if you could live in a world where you could do what you wanted to do, say what you wanted to say, and be who you wanted to be? What if you could finally release all of those broad, bold ideas that you've tucked away into the atmosphere? What if, from the tip of your Unconventional head to the bottoms of your Unrestrained feet you could just be free—to live, to love, to breathe? And what if you could do it all without the gripping fear of not fitting in, with anyone, anywhere?
Welcome to that UnCloned Life.
Beyond a book or brand, UnCloned Life is a state of being. It is a shift in mindset, an eclectic space where acceptance is granted at the door. Here, there is no such thing as a weird person or a crazy idea. UnCloned Life is the essence of freedom, expression, and humanity. Here, we just live—however we damn well please.
UnCloned Life: Seven Epic (Un)Rules for Owning Your Shit is a powerful manifesto for anyone who has ever felt excluded from the cool kids club. It's a rallying call to the geeky, the quirky, and the quiet, questionable genius, beckoning them to come out from the shadows of self-consciousness and into the bright, beautiful light of I-don't-give-a—(Well, you know what we mean).
By the end of this book, you will:
Embrace the truth of who you really are.
Release your reservations and inhibitions.
Redefine the notion of normal and stop tiptoeing around failure.
Shake the spirit of conformity and find the courage to just be.