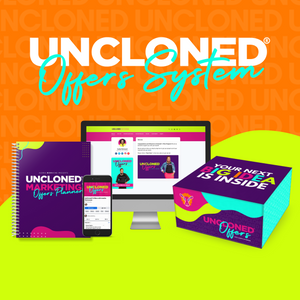 Become the Obvious Choice with the UnCloned®️ Offers System
Having a unique skill, talent or zone of genius is one thing, but determining how to package your skills, talents and genius into a product or service that positions your offer as the obvious choice can be challenging. But you can do it with ease (and confidence) when you invest in the UnCloned®️ Offers System. 
With this system, you eliminate the guesswork and confusion of deciding what to sell, how to position your offer to stand out and how, when and who to sell your offer to. 
Now, this is not a cookie-cutter system that encourages you to blend into a sea of industry sameness. Instead, the UnCloned®️ Offers System guides you through the steps you need to take to become the OBVIOUS CHOICE in a crowded marketplace – the one where audiences are compelled to invest in every time you roll out something new.
Here's what's waiting for inside the UnCloned®️ Offers System:
A 30-Day All-Access Pass to the UnCloned®️ Offers Signature Program:

For 30 remarkable days, you'll gain unlimited access to the signature program where we guide you step-by-step through developing offers that create a wow-inducing buzz around your products and services. NOTE: To get started with launching your UnCloned®️ offer as soon as possible, your 60-day access activates the day you begin the course. Once your all-access pass expires, you have the option to extend your access if you need more time. 

The Beautifully Packaged and Unmatched UnCloned®️ Offers Planner:

Filled with more than 280 pages of offer planning guidance, this hardcover planner arrives at your doorstep complete with pockets to store important ideation documents, a ribbon to mark your progress and 12 tabs of instruction to keep you motivated, excited and on pace – all packaged in a brightly colored, signature UnCloned®️ keepsake box.  

A 30-Day All-Access Pass-UnCloned® Offers 3-Day Challenge Replays
A 30-Day All-Access Pass-UnCloned® Offers 2-Day Weekend Intensive Replays
Ready to stand out in your crowded marketplace as the OBVIOUS CHOICE?