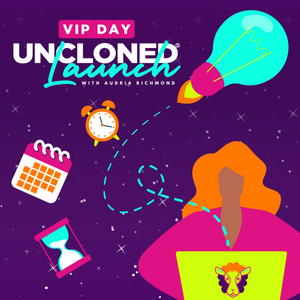 Make Your Next Launch Your Most Successful with the UnCloned® Launch VIP Day
Creating a new product or service is an amazing feeling … you're taking your business to new levels, expanding what you offer and providing your audience with the solutions they need and want. 
And finalizing your course, product, service, event, or webinar was a huge checkmark off your to-do list. But now, you need to launch and get it out into the world—and that's a whole new challenge on its own. There are a lot of moving parts to consider, like your content strategy and the team that will help you along the way.
You need to develop an enticing launch campaign that will capture your audience's attention to hit your goals.
And that's exactly what you'll discover how to do in an UnCloned®️ Launch VIP Day!
During your 4- to 6-hour, one-on-one session with Marketing & Launch Strategist Audria Richmond, or another UnCloned® Marketing Pro, you'll receive a step-by-step walkthrough of the signature UnCloned®️ Launch framework and system that Audria has used to generate 5- and 6-figure launches.
You'll end your UnCloned®️ Launch VIP Day with:
A Complete Launch Vision, Plan and Timeline:

A no-stone-unturned plan that identifies every element of your launch campaign, the goals you want to achieve and when you need to set everything in motion for optimal results

A Deep-Dive Audit of Your Offer:

Review your existing offer to ensure it's UnCloned® and ready for launch. 

A Clear Content Plan:

An outline of the content you'll use to promote and market your launch

Launch Team Resources:

A discussion of needed team members and guidance on reliable vendors, suppliers and service providers you can trust to execute the various elements of your launch

Ready-to-Execute Asset Inventory:

A comprehensive listing of the branding and creative assets (copy, photos, automation & tech, webpages, videos, graphics and etc.) you'll need to launch your UnCloned®️ offer

A Pre-LIVE Launch Plan:

A step-by-step guide on how to prep your business pre-launch so your campaign runs flawlessly

Press & Media:

Insight on how to leverage the media and use the right messaging to effectively promote your launch via the media

Opportunity Hour™️:

A walkthrough of our signature system for creating lucrative opportunities on demand

Post-Launch Plan:

Guidance on how to track your progress and maximize profits even after the launch campaigns ends

UnCloned®️ Launch Style Planner:

See your launch at-a-glance by planning out vital details and selecting a beginner, intermediate or advanced launch style

 
What You Get 
The UnCloned®️ Launch VIP Day gives you access to:
The UnCloned®️ Launch System:

This system guides you step-by-step through the how, when and where of promoting and marketing your offer in a way that turns heads and makes your offer UnCloned®️.

A Private Marketing and Launch Session:

Get expert-level guidance and proven insight on developing, planning and executing a successful and profitable offer launch. 

The Exclusive UnCloned®️ Launch VIP Day Welcome Gift Box:

Get an UnCloned®️ box of goodies delivered to your doorstep and filled with the signature UnCloned®️ Launch Planner, Launch Goals and "Celebrate Your Wins" cards, the UnCloned®️ Launch/Brand Pledge card, the beginner & advanced version of the UnCloned®️ Launch Events Planner, all 3 of Audria's best-selling books, a collection of exclusive UnCloned®️ notebooks and other UnCloned®️ accessories.
Schedule your UnCloned®️ Launch VIP Day now and get the strategies, insight and guidance you need to make your next launch your most successful and profitable one yet.