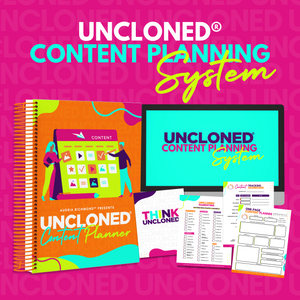 Create Content that Converts with the UnCloned®️ Content Planning and Tracking System
The secret to increasing brand awareness, growing your business, expanding your audience and boosting your profits is CONTENT. Period. Every picture, word, graphic design, video you see online created to entice, excite and touch the hearts and minds of audiences around the world is known as "content."
So, how can you win the content game when so many influencers and major brands seem to be monopolizing your market? You use the UnCloned®️ Content Planning and Tracking System to develop 90 days of stand-out content that not only aligns with your business growth and revenue goals but also leaves influencers and big brands reaching out to collaborate with you!
The bottom line is that every attention-grabbing piece of content starts with an incredible plan. And when you invest in the UnCloned®️ Content Planning and Tracking System, you gain access to the strategies, support and guidance you need to map out 90 days of content that generates a profitable buzz around your products and services.
Your UnCloned®️ Content Planning System features:
A 30-Day All-Access Pass to the UnCloned®️ Content Planning Course:

 For 30 remarkable days, you gain unlimited access to an in-depth course that guides you through the entire process of planning and creating intriguing original content that connects with your audience and increases your profits. NOTE: To get you started with planning your stand-out content right away, your 60-day access activates the day you begin the course. Once your all-access pass expires, you'll have the option to extend your access if you need more time. 

The Beautifully Packaged and Unmatched UnCloned®️ Content Planner:

 Filled with more than 250 pages of offer planning guidance, this softcover planner arrives at your doorstep packaged in a brightly colored, signature UnCloned®️ keepsake box.