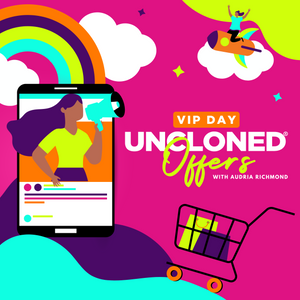 Create a Product Suite of Enticing Offers with the UnCloned® Offers VIP Day 
You already know you have a lot to offer your audience with your unique skills, talents and genius. But how you package those talents into sellable offers can make all the difference in whether your products are a sell-out success or a forgotten flop. 
You need to present yourself as the obvious choice for your customers by creating UnCloned® offers they just can't refuse. And that's exactly what you'll discover how to do during an UnCloned® Offers VIP Day.
During your 4-hour, one-on-one session with Marketing & Launch Strategist Audria Richmond, or another UnCloned® Marketing Pro, you'll receive a guided expert tour through the ins and outs of the signature, failproof UnCloned®️ Offers system. 
You'll end your UnCloned® Offers VIP Day with:
A Custom Annual Promotions Plan:

A just-for-your-business annual promotional plan that lays out every offer you'll develop and launch to maintain momentum and achieve your business and revenue goals throughout the entire year

A Finalized Product Suite:

A ready-to-launch outline of UnCloned®️ offers that will expand your product suite and client/customer base

A Defined Sales Process for Each Offer:

A profitable sales process and plan for how you'll market, promote and sell each offer throughout the year

An Enticing Beta Launch Plan:

A clear plan on leveraging a beta/test launch for 1 offer to gauge your audience's response to your product/service and use the data to virtually guarantee success during the actual launch
What You Get
With the UnCloned®️ Offers VIP Day, you'll gain access to: 
The UnCloned®️ Offers System:

This system guides you through the steps you need to take to develop UnCloned® offers that position your brand as the obvious choice in a crowded marketplace.

A Private Marketing and Launch Session:

Get expert-level guidance and proven insight on developing an annual promotional plan, creating UnCloned® offers, identifying and following a profitable sales process, and planning and executing a successful beta launch. 

The Exclusive UnCloned®️ Offers VIP Day Welcome Gift Box:

Get an UnCloned®️ box of goodies delivered to your doorstep and filled with the signature UnCloned®️ Offers Planner, all 3 of Audria's best-selling books, a collection of exclusive UnCloned®️ notebooks and other UnCloned®️ accessories.
Schedule your
UnCloned®️ Offers VIP Day
now and uncover everything you need to know to fill your product suite with UnCloned® offers that your audience will race to invest in!