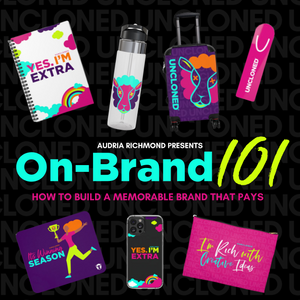 Make Your Mark in the Marketplace with On Brand 101 – How to Build a Memorable Brand that Pays
Oprah, LeBron James, Kevin Hart and Beyoncé have built highly recognizable and profitable brands that stand out in their respective areas of expertise. And while they are superstars, they haven't done anything you can't do. 
A brand is a personality, culture and vibe that distinguishes entrepreneurs and influencers from competitors. And building one is a necessary step if you want longstanding success as the obvious choice in your sector. 
Wondering how you can develop a memorable brand that stamps your genius in the right people's minds? Register for our latest workshop: On Brand 101 – How to Build a Memorable Brand that Pays!
During the workshop, we'll cover exactly what you need to know to make your brand stand out from the competition, stick out in the minds of your audience, and convert followers into paying customers. 
You'll learn: 
The must-haves to create a stellar brand identity, so you stand out in a sea of competition

How to launch and rep your brand, so you can find success from the start

How you can elevate your brand's awareness with amazing customized and branded merch

What it takes to leave a lasting impression on your target customers

How building a memorable, UnCloned®️ brand will keep you visible and profitable for years to come 

Bonus 

unboxing of the On-Brand 101 course materials and access to the Q&A replay
Building a brand might seem overwhelming when you're just getting started. But this workshop makes it fun by laying out every step you need to take to develop a memorable brand that captures and holds your audience's attention!