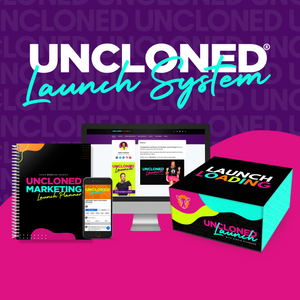 Launch with Ease with the UnCloned®️ Launch System
Coming up with a great product or service is cool, but it means nothing if no one knows it's available. And that's why investing in the UnCloned®️ Launch System is such a game-changer. With it, you gain access to page after page of proven strategies and guidance to ensure your product or service attracts the attention of the people who most need (and want) what you're selling. 
There's no doubt that launching a product or service can be challenging. However, the UnCloned®️ Launch System makes it rewarding by guiding you step-by-step through the how, when and where of promoting and marketing your offer and doing it in a way that not only pulls in profits but also excites and wows your audience. 
The best part is that this signature system works whether you're rolling solo or have a large team, whether you have a tiny or large campaign budget and whether you're running a service-based business or you're an eCommerce retailer. 
And as a 7-figure Marketing and Launch Strategist, I know the system works because I've based it on my real-life experience running more than 60 successful service-based (and eCommerce) offer launches and marketing campaigns (for clients and my brands) pulling in revenue ranging from $20K to more than $1 million.
Listen, you CAN (and will) launch with success because the UnCloned®️ Launch System includes just what you need to do so:
A 60-Day All-Access Pass to the UnCloned®️ Launch Signature Program:

 For 60 remarkable days, you gain unlimited access to our signature program where we guide you step-by-step through developing and executing a launch campaign that excites, engages and entices your audience. NOTE: To push you to create your UnCloned®️ launch as soon as possible, your 60-day access activates the day you begin the course. Once your all-access pass expires, you have the option to extend your access if you need more time. 

The Beautifully Packaged and Unmatched UnCloned®️ Launch Planner:

 Filled with more than 400 pages of no-stone-left-unturned guidance, this hardcover planner arrives at your doorstep complete with pockets to store vital documents, a ribbon to mark your progress and 19 tabs of instruction to keep you inspired and on pace. And it's all packaged in a brightly colored, signature UnCloned®️ keepsake box.  

A 60-Day VIP Pass to Collaborate with Our Community of Dope Creators:

 Immerse yourself in a safe space where you can ask questions, be creative without judgment and get the support, motivation, accountability (and tough love) you need to launch a product or service your audience will rave about for years to come. Now, because we know our community is one of the hottest online, you have a chance to upgrade your experience by renewing and extending your VIP pass to the UnCloned®️ community.