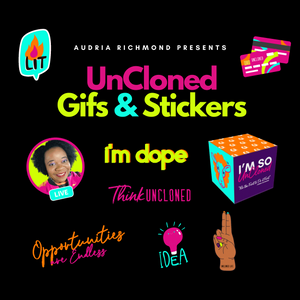 Do you want to learn how to make custom .Gifs and Stickers for your brand and business? If so you are going to love this new mini-course. Instead of using other people .Gifs and Stickers, how cool would it be to search for your name or business and use your own stickers. Get started today so you can start building brand awareness with .Gifs and Stcikers.
This Canva Template is Perfect for:
Entrepreneurs 
Small Business Owners 
Brand Owners 
Personal Brands
and any brand that needs to promote their business offline
In This Mini-Course You Will Learn How to:
How to Make Custom .Gifs

How to Make .Gif Stickers
How to Use Photoshop to Make Your .Gifs
How to Get Your Gifs and Stickers Found Worldwide 
10 Ways to Use Your Gifs and Stickers to Promote Your Business 
Software You Will Need:
You Will Learn:
How to Create Engaging .Gifs and Stickers for Your Business 

License Options:
Standard: Personal Use Only. Not For Resale or Use With Your Clients and Customers
Extended: Use for Clients and Customers
Why Should You Buy from Audria Richmond?