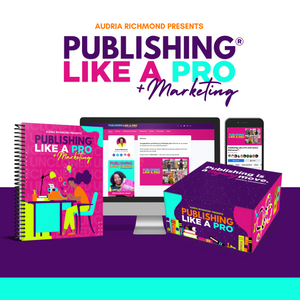 Master All Things Publishing and Build a Legacy of Wealth
You're always looking for new ways to grow your empire. And you know publishing your own books, magazines, planners, journals, notebooks, card decks and games is a massive part of doing that. BUT, putting together the pieces and publishing something you're proud of isn't as easy as you thought.
From research and product design to layout and printing to marketing, publishing your masterpiece can seem like an impossible task without proper guidance and instruction. And that's where Publishing Like a Pro® comes in.
Through this comprehensive course packed with step-by-step guidance, practical gems, and an in-depth workbook planner with worksheets and checklists, you'll get the insight and proven strategies you need to publish next-level, norm-challenging books, magazines, planners, notebooks, journals, card decks and even games that will excite your audience and have you pulling in revenue for years to come.
Inside Publishing Like a Pro®, you'll discover how to:
Develop publishing outlines and budgets that keep you focused and on track (all without breaking the bank)

Assemble a publishing team to help you turn your brilliance into profit-boosting published works

Determine the best product to print to meet your audience's immediate needs

Outline and give your product an intriguing name, so it sits in a class of its own from the very start 

Determine the right category for your product so you can reach the right audience

Turn your published products into long-term, revenue-generating assets

Partner with talented AND dependable designers and other vendors you can count on to produce stunning work

Write an enticing description that tells people exactly what your product is all about (and why they need it)

Secure your work from copycats and get full credit and recognition for your published products 

Self-publish with an ISBN and start selling to and tracking purchases and sales from libraries, bookstores, online retailers, distributors and wholesalers

Store your inventory (even if you don't have a warehouse), wow customers with exceptional delivery and seal the deal with stand-out-from-the-crowd service
PLUS, with this course, you'll never again have to guess about publishing because you'll get the exact strategies I've used to produce books, journals, notebooks, card decks, magazines and games for my brand and my clients' brands. 
You'll literally get every resource, tip and "ooh-I-never-thought-of-that" piece of advice you need to Publishing Like a Pro®. 
When you enroll into Publishing Like a Pro® + Marketing, You will receive the following:
Lifetime Access to this Version of Publishing Like a Pro® + Marketing Course
Publishing Like a Pro® + Marketing Planner in the Mail 
Asynchronous On-Demand Q&A 
You'll also get THREE exclusive bonuses that will help you set your product suite apart from any and every published journal, book, notebook, planner, card deck, magazine or game in your market:
BONUS #1: UnCloned® Marketing Book Launch Case Study
BONUS #2: Opportunity Hour® Training
BONUS #3: Branding Style Guide Pro